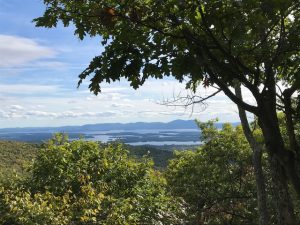 Hope. This image may look like just another gorgeous mountain range across a lake. But it's my talisman of what is possible, and the beauty and peace waiting whenever the autism-life is turbulent. It speaks to turning challenge into opportunity – disability into achievement – frustration into joy.
We're atop Mt. Shaw in Moultonborough NH, a peak on a list of superb viewpoints that we're hiking lately. The picture was taken from no place special really – just a random descent on a lovely Sunday where the trek went faster and easier than expected. The peaks in view aren't brag-worthy hikes that ultra-marathoners list in a can-you-top-this post on Facebook. They're local and accessible and gorgeous, and coincidentally they're trails we're volunteering to help maintain.
The boys did great ascending this hike, and after a quiet period eating his snack at the summit, the real Will emerged. He jumped up with loud non-word happy noises that startled a fellow hiker talking to us but quickly melted everyone into smiles. It's the Will that hiking brings out – whose joy that can't always find words but who bursts forward when there's views around and shows me that I didn't imagine his liking his sport.
Jeff usually isn't as demonstrative this way, nor was he yesterday, but he was soaking in the view in his own way. He's exceedingly patient as always when I want to linger for 45 minutes taking pictures and using my new favorite obsession, the PeakAR app that ID's the mountains in view. I love testing my internal geography around us, but more than anything I love remembering the times we hiked each, then dreaming of the next ones to bag. Ostensibly my excuse for too much summit picture-taking is to make "what did we do this weekend?" social stories for the boys to send to their day program, something I've done each Monday for over 10 years at a teacher's urging. Sometimes I indulge myself in writing the names of each peak on the photo's horizon, a probably not too disguised statement of pride on how many we have conquered. Mostly the day program ignores these, and I often question why I bother – except deep down I know why. It's probably just as much for me as for them.
Mondays are few people's favorite days, nor mine. But lately I begin each, no matter how busy I am with work, by emphatically prioritizing the long view if only with one action item that however small puts boots on the ground of my journey there. Autism makes our family's days highly structured, filled with repetition and pushing others to do things they don't want, despite perennial irritants like respite worker cancellations and cleaning up spilled milk literally and figuratively. Sitting atop a laptop pales in comparison to a summit no matter how engaging the effort, and ascending stairs for yet another pile of laundry is far from rewarding. So when I start my Monday by doing something, anything, to address my own personal goals, I feel as if I'm still on that one, continuous trail toward habilitation for the boys, and last but certainly not least, happiness for me.
Call it a Monday me-first action item, or just my quirk. I take action each morning to make my world more of what it needs to be, and for today, I made this picture my lock screen. Now every time I look at the technology that chains me to the desk, I get to remember where we stepped a day or so ago, and visualize the horizon of my many tomorrows across a sky that will be dotted with even more meaning and joy.
Here's to Monday – and here's to omni-present hope.