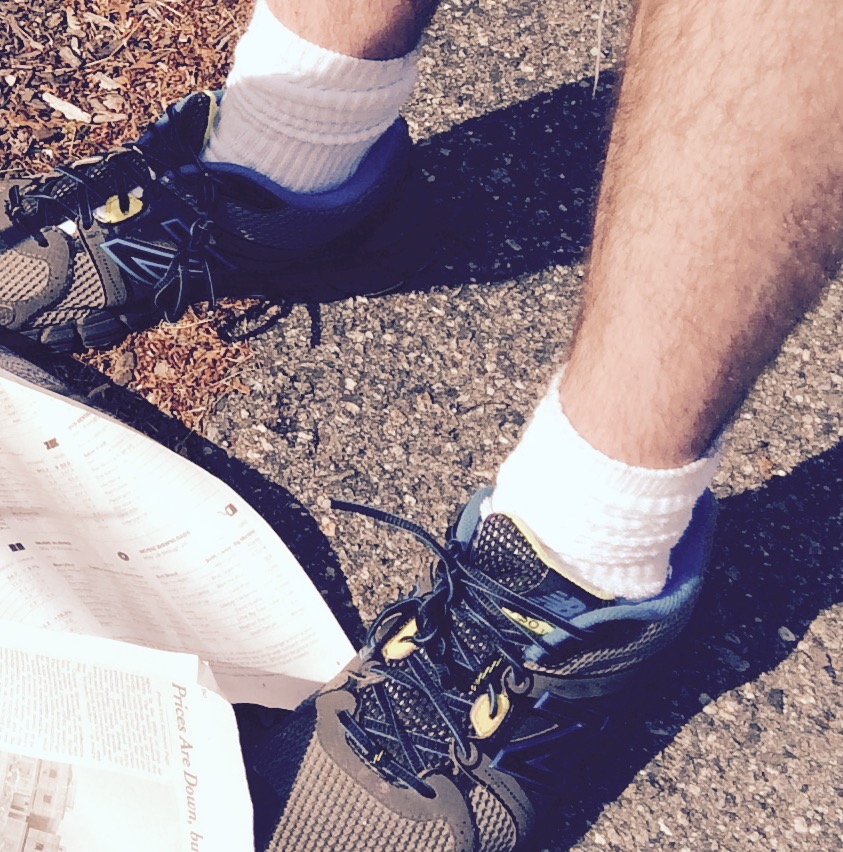 Solo parenting on the weeks the hubby is away is enlightening – often hard, but always for the better. I'm trying to use the one-handed-wallpaper-hanger necessity of things to drive independent one or two specific living skills each trip, in the hopes that practice makes progress and we can continue going forward.
This week it's the socks-and-shoes routine. Specifically I task the boys to travel across space, while following multiple commands: "Get socks, go down stairs, and put on socks and shoes."
High-functioning autistic parents may tune out right at this point, but for those of us with more challenged kiddos, multi-step, multi-location direction following is hard. Will lost 2 pair of socks on the way from his bedroom downstairs. Jeff made it all the way through putting socks on but then drifted until Mom arrived to prompt twice, one for each shoe-on moment. Considering it's taking Jeff about 6 weeks for some semblance of consistency with the get-your-backpack-and-get-on-the-school-bus-without-Mom, and even now he's still about 50/50 performance -our progress does indeed take practice.
I find myself thinking about life in my boys' shoes a lot lately. My favorite shoes of late are open strappy sandals, airy and fast-donning so chill them and enjoy dew-kissed grass. My guys are closed, restrictive and multi-step to put on. That's a metaphor in more ways than one. Call me Pollyanna but I forget how affected they are. When I see how they genuinely try to help and follow request – as in last night's "put the bead bucket on the kitchen table" when it became apparent Jeff still didn't get the concept of "table" – you have to love them all the more. In the lottery of life they were cheated out of a central nervous system that could process words and meaning like the rest of us. Without prompts, intonation and in-context repetition, we might as well be broadcasting in Spanish. They need a translator.
Yet there is hope. Today Jeff was more facile than yesterday – and Will, once we retained the socks in hand, commenced putting them on instead of just sitting there. The delayed school buses meant lots of household chores got done together, for more practice. As we work these things, and experience baby steps toward mastery, I wonder if other parents get to savor these minor milestones – and feel badly that my usual stressed out and over worked orientation prohibits me from reveling in them too, until life forces them upon me – and I can adopt some new shoes if only for a while.