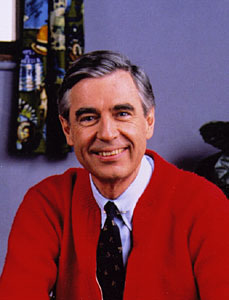 Profound wisdom comes in the simplest packages.  Like a man in a red sweater and blue tennis shoes who simply tells you "I like you just the way you are."
What a talisman for the day.  A FB friend reminded me that it's been nearly 12 years since his passing, and reposted a great clip of his message when asked how to help kids understand the 911 events. The clip saw him relate how people would walk up to him and relate how good he made them feel – and how by carrying that same message forward to their own children, these people were working to make more neighborhoods feel safe and loved.
Self-acceptance is so freeing.  I found myself adopting his "I like you just the way you are" mantra as I glanced sideway in the mirror at those ghastly 5 lbs I can't seem to lose lumped in my midsection.  I said it to both W. and J. first thing, as I caught them in the act of doing good – J. yet again independently proceeding through more of his morning routine, and W. as he made his own sandwich with that off-centered cut rather creatively into companion 1/8 and 7/8 slices.
Here on day 4 of the hubby's business trip when lots is going wrong, so much about me, the guys and our lives are just fine.   I love you just the way you are, my friends.