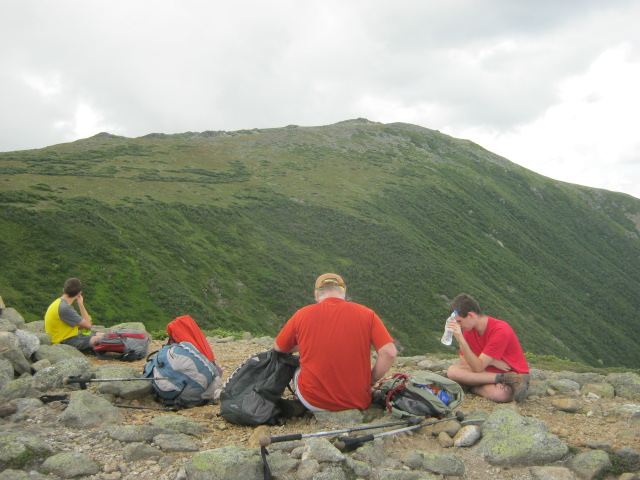 Trails are spelled much like "trials" for a reason.  They're one in the same – it's just an adjustment of letter, or an attitude, or a feeling or two.  Over the past two weeks we've surmounted two major hikes – Isolation and Owl's Head – that are accomplishments for any person, let alone those challenged with autism.  I'm still glowing with pride over my little wonder boys and their ability to put one foot in front of the other, and move forward.   Pardon the moment of parental crowing, dear readers.  When life is tough, the hubby and I say to each other that while our boys can't read, struggle to count and can't open a soda can or a granola bar independently – they sure can hike up the mountain.
And that's what we are all doing, truly.  My photos of our journeys usually don't do justice either to the natural beauty of the day, or to my sons inner beauty, since their ability to look at a camera and focus is limited.  This leads to lots of "funny nose face" images, or others where they're behaving in ways I'd rather not memorialize, like the hands going to the pants and so forth.  But look closer.  The top of the above image shows Boot Spur, a side peak south of Mt. Washington where those who struggled to emerge from forest and shadow are treated to a 360-degree view of the vast beyond. We sit looking at our future, knowing there was about another 2 hours beyond that to the actual destination of Isolation, and yet seeing the path that we all know is very doable – with views every step of the journey to delight.
Today is a weekday, workday, and busy day.   Disrobing is still part of our daily trek with W., and each day we continue to work on behavior-training to help him learn to keep his clothes on where it's appropriate.   Self-stimulatory noises are still part of J.'s path, as are occasional slaps to himself, and a tendency for hands to stray to the private parts – behaviors that rise with stress levels.  Each boy's list of activities of daily living they must grow loom as large as that mountain.  At 5:10 am as I write this, the day's to-do list has only begun, and I'm already half way through the coffee pot.
Yet there is a trail, and it is only a trial if I misspell that word.  It is leading forward, as surely as all others we summitted.  And there is a view to savor always, if we keep looking up to see it.  My challenged boys had the fortitude to spend 12 hours of one foot in front of the hour to get to what you're viewing above- 14 hours, in the case of Owl's Head – even when the pebbles beneath them slid and they were tired or afraid.   That's a reminder to me at least of their patience, strength, and perhaps even trust in me as we march on toward capability and happiness.