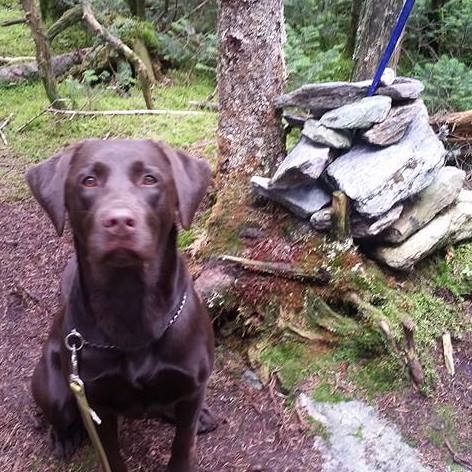 Meet Moose – short for Moosilauke. She's named after one of the best mountains in the Whites, and has a penchant for water, mud, being in motion, and just being who she is, proudly. Moose's mom Jes was someone I met at the NH Four Thousand Foot Club awards dinner last year. We'd both hiked the 48K's and were there receiving our certificates. After the slide presentation where some of our narrative was shared she came up to me and said that as a special needs teacher working with autistic kids, she knew what an accomplishment it was for our guys to be there. We promptly became FB friends and now a year or so later, decided to hike Mt. Ellen in VT together.
What a dog can teach us!
Both Will and Jeff rather dislike animals, including dogs. Jes asked in advance if I minded if she brought her dog, and I didn't want to say no. Firstly because it seemed rude, but also because it seemed like an opportunity to stretch the boys' tolerance level. Will really has taken up offers from neighbors to pet their dogs lately and at age 21 it's time they work to get over some of these remnants of jumpy dogs from their childhood.
Moose set off at a blistering pace despite the high humidity of the day. Jes also didn't seem to be even breaking a sweat and was cheerfully right there with the dog while chatting away as if she wasn't even breathing hard. It was fascinating getting to know her and hear about her students as well as her own family. With sassy hair and a smile that was as wide as Vermont itself, she was so full of life and so different from most people in my world. I'm so used to hiking with just the hubby for conversation that having a talking traveling companion – beside the boys' occasional requests -is a rare treat. She's also got a wonderful Vermont earthiness to her that when Jeff in particular did his let's-pee-at-every-corner bit I didn't have to feel super wigged-out. But after about 15 min I was panting and realized I needed to either step it up in a big way, or show I needed to go slower which I hate-hate-hate because it makes me feel old-old-old.
Meanwhile the boys were completely fine with a dog in the party. Jeff wasn't into Moose but he seemed to be loving the quicker pace the dog set. Other than a very occasional nose into running stream, Moose was charging up that hill, and Jeff was right there with him. Will was lagging behind a bit on the ascent, though not flopping -just keeping his distance and more probably, just not highly motivated in the heat.
Because my knee was bothering me way more than usual on ascent, as much as I hated it, I had to slow down and allow Jeff to hang out near the top of the party with Jes, and get over my feeling that to be a good mom I need to be hovering (is that a helicopter I hear?) a little closer to him. Even with that our group did the tough part of the climb really quickly, covering 2.4 mi in 1:20 min, a really nice pace. We then continued on for another 1.8 to the summit, where the dog had to do more tough stuff of scrambling up taller ledges which had to have been harder. But she was a trooper like the rest, and the closer pace made it easier to continue the chat more.
Soon people were telling us we were almost there, and then – we were! I knew the summit was wooded/no views but didn't expect it to be so close to the ski lift platform, where the ribbon of the Long Trail mountains stretched beyond the horizons. We basked in the mostly-sun for over an hour. When it was time for pictures I thought I heard Julie Andrews crooning "The Hills are Alive….." although then again it was probably my heart doing the singing. That's always what I feel when the reward of a view displays itself to me.
Moose also had a fabulous hike. She loved the other dogs and all the attention from friendly fellow hikers, most of which identified themselves as dog people. Jes said she thought the dog was aware that on descent I was going way slower, that the boys at that time decided to hang back with me and so the dog almost had a radar for "where are these others?" which is interesting. The initial to mid-part of the descent over the steeper part was really hard on my sore knee, and as old as it made me feel, I really had to slow down. But a little over midway the grade lessened and I loved being in earshot of Jes enough to enjoy the conversation.
My takeaways for the day:
1) If you don't try, you don't grow. The boys were completely fine with the dog and what's more, maybe they'll be even better the next time – less imposing the distance.
2) Teachers make the best hiking companions. This is the 2nd time I've hiked with a fellow autism teacher. I return to normal life with more rounded viewpoints. The winner for the day for me was Jes' remark that so much of our kids' lives are choreographed. There's a separate blog post in that. I continually worry about balancing my desire to super-structure the boys' life, because it indeed has helped them over these many years, with the real limits on my own time/abilities, and more importantly their becoming adults merits more self-determination. Who gives a wahoo if Jeff wants to repeat nonsense words and Will wants to sing Jingle Bells in July at the grocery store. I mean really.
3) I am not invincible. And I hate it. Then again, does Moose the dog know she needs her master, and that she's loved, and her non-invincibleness is OK?
4) People need to be more like dogs. I'm not an animal person and it's been years since my mother had dogs in our house. But Moose was just who she was, and that was 120% OK. Maybe that's enough for Jeff and Will, and, by extension, even for me. We all brought our unique bundle of assets and challenges into the woods, carried them up, and summited while hopefully toss some of the baggage into the winds – baggage like perfectionism, and self-doubt, and trying to do it all.
I watched Moose return to her favorite little stream of the day upon descent, and indulge herself in a little snout-dipping as the paws dug and water splashed in excited shivers of delight. How priceless. That we can all do the same today.