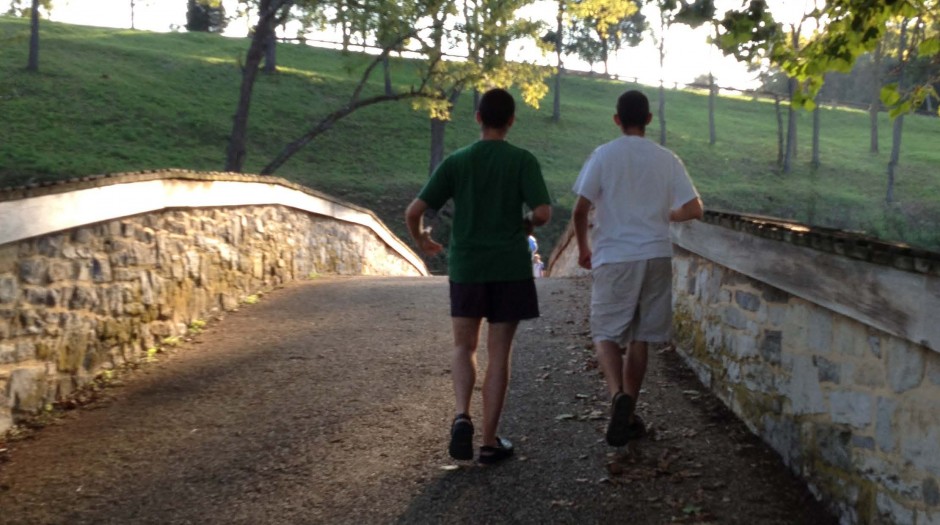 Last night's Special Olympics party to conclude the season has me thinking about transitions -also the tabletime topic among the parents in attendance.  W (nor J) won't have an organized team sport this spring unless I mix up their speech therapy schedule a bit, or reach beyond the local groups here – which is actually not a bad idea.  There's lots to be gained from trying something new and exercise plus sociability is always helpful for our family.
With one year and 17 days left in the public school system, not that I'm counting, our bridge to tomorrow seems so very near.   The above image is the Burnside Bridge in ?Antietam MD, on a Civil War battlefield we toured back when dear daughter's Virginia college put us hear such dappled fields.    Because I like my autistic wonderboys need visuals to guide me, I'm keeping it at heart this morning.  It was such a gift of a day, with J. as usual guiding W across an expanse and somehow everyone getting their needs met.  I know that's possible for adults with developmental disabilities, however fresh the stories of frustration that square pegs of these special individuals don't fit into the round holes of adult programs for them.  I also know it's very possible for me to creatively frame a life for them – and me – that meets our needs, allows us to grow and yet places us on some undiscovered path to a future full of light and promise.
I"m also heartened that I've made it here, God knows how sometimes.   Today is day 5 of the hubby's seemingly endless business trip and the work demands have been ridiculous, yet somehow I've held it together.  My own life is on its own bridge to somewhere – hopefully not a bridge to nowhere – and I feel that too.  I'm ever mindful that I have options and can exercise them should I figure out what the heck ones I want, and more than anything manage my own warped self-expectations.
To the bridge!  to the future!   to a day with the best of all we can be.