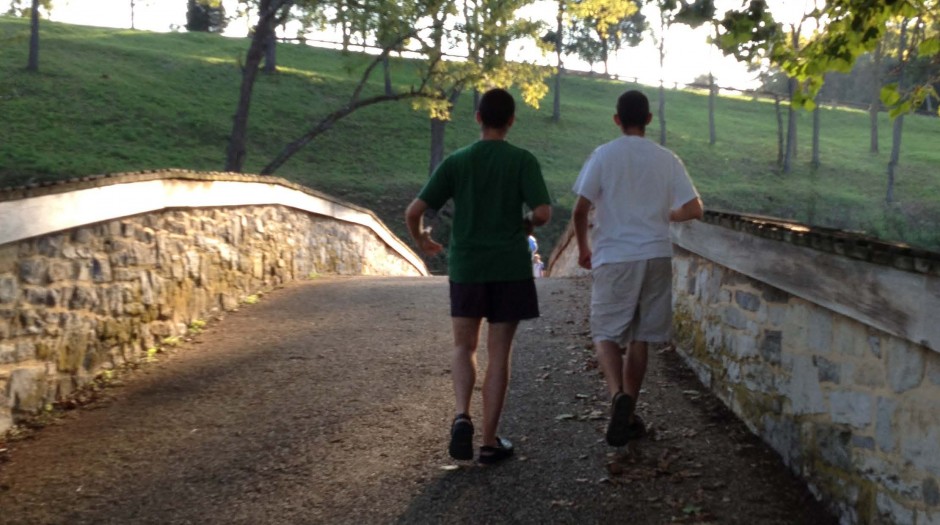 On a Monday morning full of technology hassles that have now made me way, way, way late for the day's paid work, it's more important than ever to remember my #1 priority – why I'm here – and why you should visit me again, dear readers.   I'm Twin Mom, and while I'm much more – as you are too – my role as autism mom has forever changed me.
Some parents of autistic individuals have autism as their personal bumper sticker.  Others start foundations or write legislation and actively assist the broader autism community.  My personal mission is perhaps an inch wide and a mile deep.   I hope to share my story of parenting twin boys on the spectrum through to adulthood as a semi-balanced human being in the hopes you will feel validated, maybe learn something, or if nothing else, know you are not alone.   My W. and J. are the light of my world, and when the light is dim, that's when they do something remarkable that shows me how genuinely gifted I am that they are mine.
Perhaps it's that I've needed to make money so I didn't have the ability to quit my job.  Or that I was just too overwhelmed surviving the twin thing.  But unlike some parents of autistic kids, I didn't discover a genetic breakthrough.  I didn't abandon my one other child so I could lock myself in a bathroom with the autistic two and cure them.  My kiddos do not go to college and maybe someday they'll even read or count the correct number of forks at the dinner table.  They struggle, sometimes a lot.  It's unlikely they will drive a car or live independently.
Yet they smile from the soul, and their joy doubles or quadruples my own.   Most of all they have each other, something that J. thrives on.  Right before the above photo was taken as they strolled across the Burnside Bridge on a civil war battlefield as the sun gently faded, J. (on the right) lovingly took W's elbow and guided him from one side to the other.   How fitting, because the two of them have done that for me.   They helped me walk from a land of rather self-centeredness of Yuppiedom, to a life where I am humbled daily – I have to ask for help, a lot – and I am forced to shed perfectionism and accept with gratitude the small victories that happen each day.  With our typically developing oldest kiddo, she made it all so easy. With W. and J. there's much to work and yet much to treasure too.
It's easy to find resources lately for younger kids with autism, and I'm grateful that many friends and fellow parents have made early diagnosis a reality.  But the fight to integrate our kids into the mainstream of happy, productive living is a fresh one, and not nearly begun.   No offense to wonderful events, but it's not about autism friendly performances.  It's about making an autism friendly workplace and neighborhood – not just for the pretty little ones or the higher functioning individuals, but for us all.
Join me on our journeys toward adulthood, and post comments with your own.   Being parent to an autistic child is not a life sentence, and the path from the teen years and toward adulthood – my own personal focus at present – is well trodden by others.   Together we show each other the way.
Happy trails wherever you are today, and here's to making each step as joyous as the first – because it is, the first step on the journey to the newness your child and you will discover today.