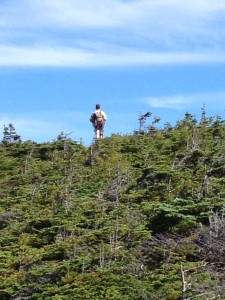 The title of a book I'm reading, and whose author I know and admire, is resonating with me across many levels as the sun shines and I've just rejiggered today's plans in hopefully what will turn out to be an exciting vector.
"It's Not About the Hike" chronicles two ordinary not-20 something women as they hike NH's Four Thousand Foot peaks, the travails they manage to conquer on each, and the broader ones that the journey fuels them to enjoy.  Obviously this is turf near and near to my heart as you, all four of you reading his blog, know well.   I love the inspirational quotes atop each chapter which the Facebook page reiterates as a daily reminder to keep a perspective across life's vast vistas.
My progress thru the book is probably the world's slowest given I fall asleep about 2 instants after my head hits the pillow lately (often before, while sitting, glasses on and usually crunching something under me that wasn't supposed to be there.)  But the story is a dictum for rich, balanced living – something that I personally have to remind myself often – and that I suspect other parents of special kids must do, as well.
Last week was the culmination of two major work projects capped by a whirlwind 48-hour business trip out and back from East Coast to West Coast.  During this time W.  had one of his shirt disrobe-filled, power struggle weeks both at school and at home where he was difficult and defiant with everyone.  My mommy self always blames myself for my sons' bad weeks.  If only I hadn't _____.  If only I was the one who put him on the bus, not the spouse.  Maybe if I hadn't fallen asleep at night and we did puzzles instead of let him do iPad, he would have been more organized the next day.   Was it because we didn't get central air conditioning and the temperature here varies when it's hot?   etc. etc. etc.
Our autistic kids' tough times are tiring in a physical sense, of course, but it's the emotional trek involved in addressing them that is its own formidable peak to climb.   I constantly reexamine the most minute aspects of what I do for things I could do differently, which on a bad day can lead me into a spiral of self-recrimination.  It's no fun beating up yourself, and certainly it doesn't help the kiddo either.
But then all of a sudden, there's a stunning vista where you didn't expect it – and the rays bathe the mountain top, and you know it will be OK – somehow.  Given the week as it was I was not looking forward to the hubby being away this weekend on his annual guy's weekend.   So I planned to pretty much keep to the usual semi-structured weekend routine of Friday library volunteering, Saturday morning speech therapy, and Sunday participation at a church event with the help of some friends.  When in doubt, in our house, structure and then if all else fails go on a car trip.
Amazingly the boys were quite manageable, and its Sunday at 9 am while I write this.   They were so good I found myself rejiggering Saturday's schedule to throw in a fast jaunt to the ocean – agreed upon by group vote but really balm for my weary soul.    They actually put themselves to bed when I fell sound asleep on the sofa after returning – OK they did not dress in PJs or brush their teeth but who cares.
So we're off on a journey now, for a last-minute planned hike.  I cancelled the help and he helpers and am taking a deep breath that I can manage the boys effectively on this day.   Doing solo hikes with the boys is advanced territory for me, as I have to negotiate the bathrooming situation to avoid mens-room only facilities, and more importantly make sure the group stays together so we don't lose anyone up the mountain.   I've done enough household chores so that I don't feel like I'm totally blowing off the weekend so I can justify this to myself.  (does any other mother do this to herself?) And of course I have to pack, drive and manage the readiness of shaving, toothbrushing, shoes on, backpacks loaded etc.  (missing my spouses help and grateful for it now).
But that hardly matters a whit today.  It's not about the hike – this one, or probably any of them.   It's about growing, giving yourself something you love in a word of must-do's and everyone else's demands and priorities.   It's about shared joy.   It's about entering what Shakespeare calls the Green World and letting go of daily cares so as to find a better, fresher way.   It's about putting one foot in front of the other, with sometimes mind-numbing repetition, until suddenly there is accomplishment – there is new skill – and there is hope.
J. made himself a cereal breakfast yesterday, all except for a reminder that cereal tastes better with milk, which he then promptly got.  He even cleaned up after himself and put the milk away.  Later he swam in the backyard pool while I watched 100 feet away from he back porch, totally appropriately and answering when I called, for an hour.   Both W. and J. used the men's room solo and appropriately at BJs later on, and waited nicely 2x sitting at a table at a restaurant while I moved about and used the restroom.
We are making progress.   There are breathtaking vistas in life that will be ours, and mine. We are journeying toward some stunning summit, and we will make it there!